Holly and Jake are back at it again with their famous Finish the Sentence link-up (thank goodness). I mean who doesn't love someone giving you WHAT to blog about on a Wednesday when you worked 12 hours the day before?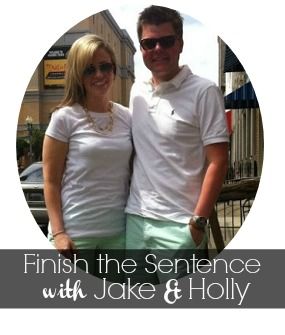 My happy place... lately it's been anywhere that has wifi so that I can watch Greys on Netflix. But normally it's Target. Okay who am I kidding it's always Target.


So what if I.... have anxiety about my phone dying when I'm not near my charger. I mean I need to be able to text my friends
E! needs a reality show about... bloggers, duh! I mean y'all know that would be one hell of a show. MOVE OVER KARDASHIANS.
My go-to fast food meal is... um hello?! do you live under a rock? If you say anything other than CFA you are lying. waffle fries, I need you in my belly right meow!


You might not know that I... um. um. um. I've got nothing. Guess I'm an open book?


The hottest quarterback in the NFL is... gosh I can just feel all the side eyes I'm about to get. I just googled "hot NFL quarterbacks" and chose this one....
Don't root for the Packers, but I may have to start.
If I could.... monogram everything, I would. Just ask Crystal.
My personality is awesome because... it's mine and not yours. kidding, that was weird.


Twerking is.... bad. just bad. and needs to just stop happening.
See here is proof. (<---- Click on that if you wanna LOL/VOM) woof.
I think it's super gross when... I'm eating steak and I bite into a piece of fat. EWWWW


Someone needs to tell Miley Cyrus.... go get Hannah Montana out of the closet she locked her in and let her play for awhile. Miley has gone a little cray cray, and she needs to chill the eff out
and speaking of cray cray (just kidding), it's a certain muffin's birthday today!
Happy Birthday Sami Muffin! I hope you have a fabulous birthday!
thank you Sami's Insta for the pics